THAI PUMPKIN & COCONUT SOUP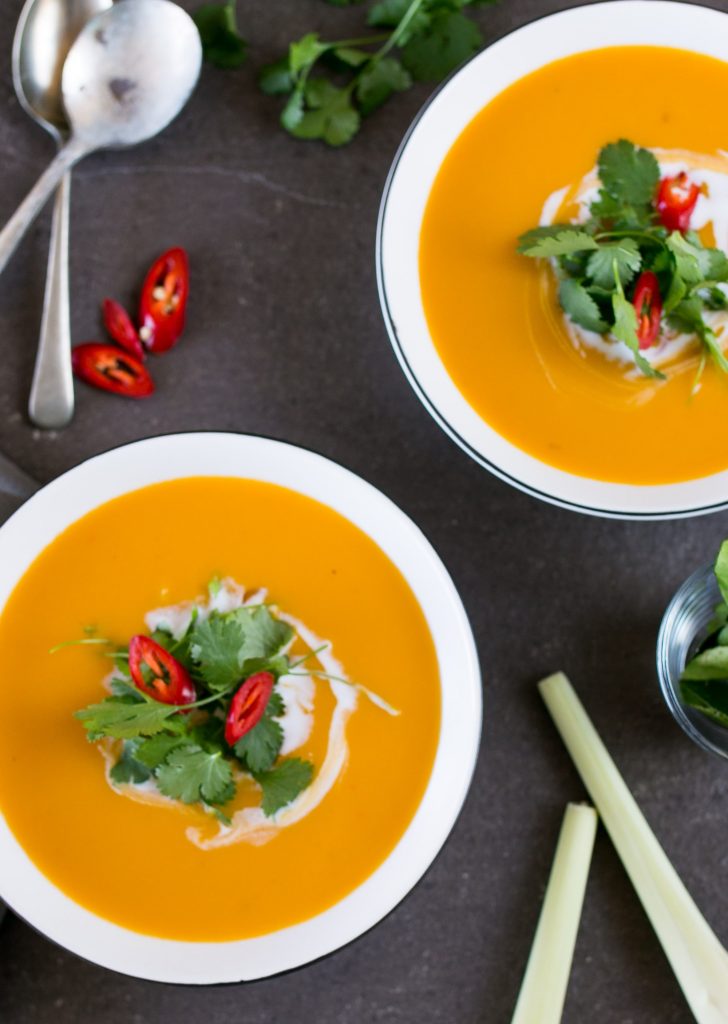 INGREDIENTS
700 grams of pumpkin
1 onion
2 cloves of garlic
1 teaspoon fresh ginger
½ long red chilli
1 stem lemon grass
1 kaffir lime leaf
500 ml of vegetable stock
½ cup coconut cream
1 handful fresh coriander
1 tablespoon of olive oil
INSTRUCTIONS
1. Peel and cut the pumpkin into cubes and set aside. Dice the onion and crush the garlic and ginger. In a large saucepan over a medium heat, place the olive oil, onion, ginger and garlic. Sauté for a couple of minutes until the onion is transparent.
2. Meanwhile, finely slice the kaffir lime leaf, chilli and lemon grass stem, then add to the saucepan. Sauté for a further for 2 minutes with the onion mixture. Add the vegetable stock and pumpkin to the saucepan. Place a lid on the saucepan and simmer for 20 minutes or until the pumpkin is tender. Transfer mixture to a food processor and process until smooth.
3. Serve in soup dishes and top with a tablespoon of coconut cream and fresh coriander.
SERVES 4–6
Author: Caralee Fontenele