What's in Season – Australian Seasonal Produce Guide for Autumn
Autumn is a time of abundance when it comes to fresh produce: apples, lemons, pumpkins, pears, leeks…along with the colours and temperatures this is most definitely a magical time of the year.
Because there is such an abundance, it's easy to cook with seasonal produce and create a wide variety of meals. Cooking in season means that you save money, can shop locally, the food is fresher and tastier and often healthier than cold-stored food.
The treats that need a long ripening time over the warmer months are at their best early in the season. Watermelons and rockmelons are sweet and juicy. Tomatoes are everywhere, in colours from black to yellow, and sizes from mini to massive. Pumpkins are ready and eggplants are a bargain.
As the season builds, rains trigger wild mushrooms to sprout. Unlike button and Swiss brown mushrooms which grow naturally on dead trees, pine mushrooms and other wild 'rooms, such as porcini and slippery Jacks, grow on living trees. This means they can't be cultivated in the same way as commercial mushrooms, but must be collected from forests. That makes a dish of wild mushrooms a tasty reminder of seasonality.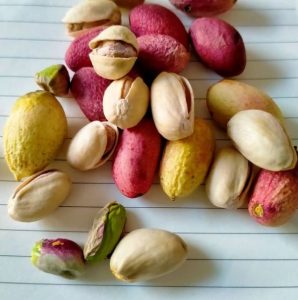 Image supplied by Tierra Bulk Food
Nut trees that blossomed in spring drop ripe nuts to the orchard floor in autumn, offering the cook fresh walnuts, almonds, pistachio, pecans, macadamias and chestnuts. Chestnuts have a soft, crumbly texture and an earthy sweetness that is more sweet potato than nut. They can be eaten in main dishes, sides or desserts, or simply as a snack. Use a sharp knife to make a small incision in the flat side of the nut to prevent them bursting in the oven, then roast. Peel while they are still warm.
Autumn's fruit basket is varied and delicious. Apples are at their fresh best. The harvest starts in mid to late summer with royal galas, and continues until the last sundowners are picked in May. Pears are also at their peak, with a variety of flavour options, from the early-season, soft, golden-hued Williams, to the firmer, elegant cinnamon-dusted beurre bosc, and the ugly, bumpy, flavourful packhams. In the same family as apples and pears is the quince, which also makes its brief appearance in autumn.
Figs are cheap enough to turn into jam, and grapes are still good. The local harvest of pomegranates knocks the imports off the shelves, and persimmon are picked from Queensland through NSW and into Victoria. Most persimmon grown in Australia are the sweet fuyu type, which is a squat round shape. This fruit can be eaten firm like an apple, or allowed to sweeten and soften. The other variety available is the original persimmon, which is more likely to be heart-shaped. Quite astringent when firm, it ripens into a soft, sweet jelly.
As autumn cools, lovers of citrus can get sticky fingers over new mandarins, grapefruit and the early varieties of navel oranges. Lemons are plentiful again.
Beyond the orchards, cooler weather brings on the vegetables that bolt in the heat. Celeriac, horseradish, fennel and brussels sprouts are all good. Once the chill sets in, radicchio and the kales, such cavolo nero, come into their own. Autumn is also the season for olives. Cooks keen for a project can find hard green olives at some markets and greengrocers. There are easy-to-follow instructions for preserving olives online. Get busy and as autumn turns to winter home-cured olives could be ready to serve. That would be celebrating the season!
Top five picks by month
MARCH
Pears
Apples
Figs
Persimmon
Pumpkin
APRIL
Chestnuts
Wild mushrooms
Pomegranate
Olives
Walnuts
MAY
Quince
Navel oranges
Horseradish
Pawpaw
Brussels sprouts
This list includes the more popular fruits and vegetables; speak with your local grower and market stall owners to find out what other produce is in season at our farmers markets this Autumn.