Raw Carrot Cake Balls
These raw treats are super easy to make and really delicious. They are full of nutritious ingredients and taste just like mini carrot cakes. 
They are the perfect lunchbox snack for the kids and taste great as an afternoon snack as well!
With a prep time of 15 minutes, you must get onto these!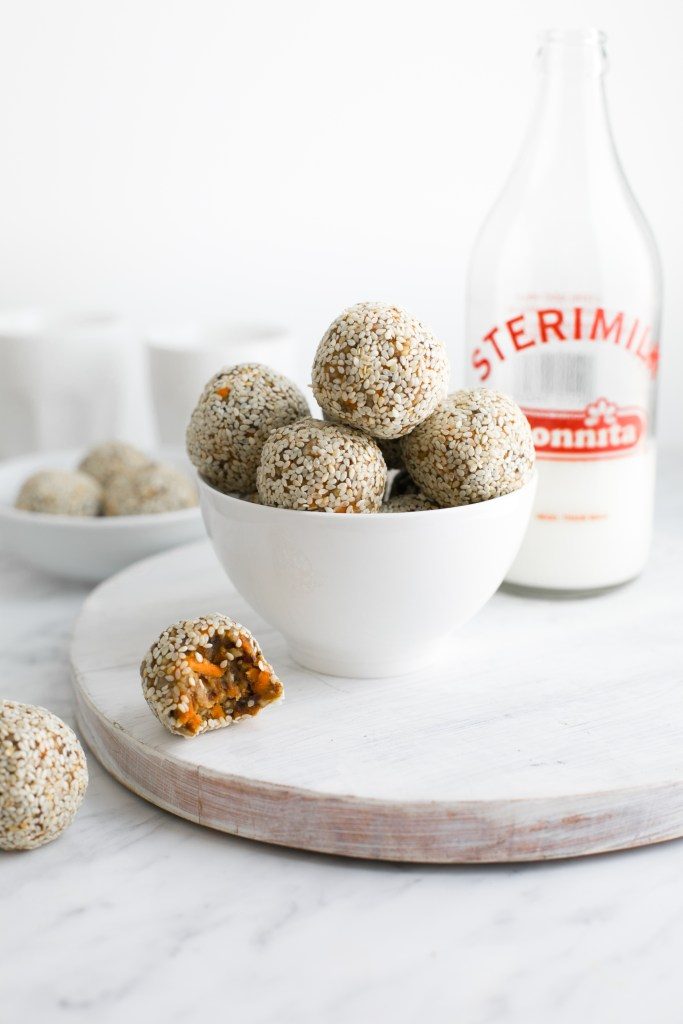 RAW CARROT CAKE BALLS
TOTAL TIME
Author: Caralee
Serves: 15
1½ cups dried dates
1 cup walnuts
½ cup sunflower seeds
½ cup shredded coconut
2 cups grated carrot
1 teaspoon cinnamon
½ teaspoon nutmeg
½ teaspoon cardamom
Pinch of salt
3 tablespoons coconut oil
¼ cup sesame seeds
INSTRUCTIONS
Place the dates and walnuts in a food processor and chop them coarsely, leaving them a little chunky. Add the sunflower seeds, grated carrot, cinnamon, nutmeg, cardamom and pinch of salt. Blitz a little to combine, but still leave the mixture chunky. Add the coconut oil and mix together. With a tablespoon, mould the mixture into balls. Coat with sesame seeds as you go. Place in the fridge to set.
Tip – These will keep really well in the fridge for over a week.